UiTM INTERNATIONAL STUDENT RECRUITMENT AGENT
Interested to be part of the Largest Public University's in Malaysia?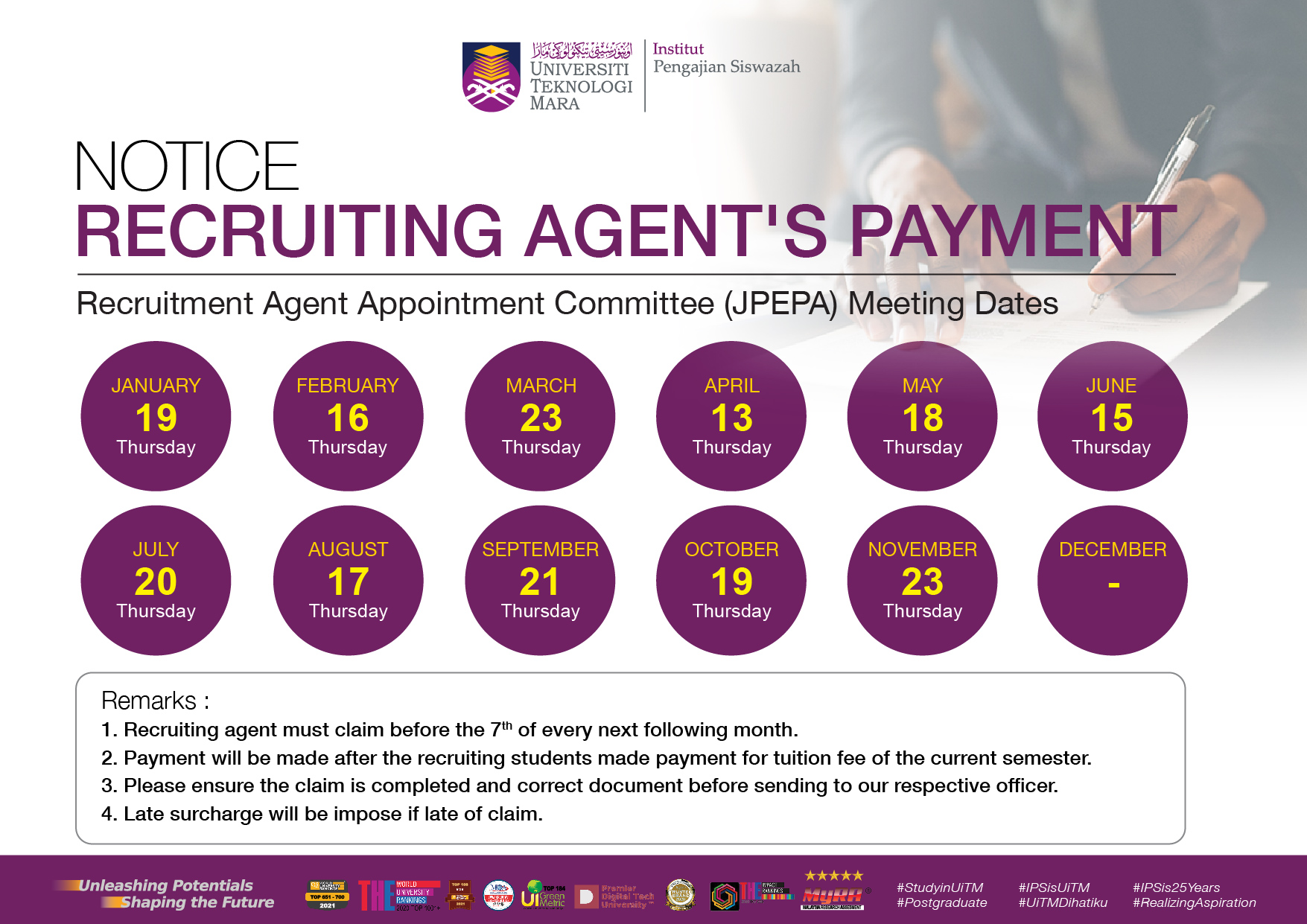 LIST OF APPOINTED UiTM RECRUITMENT AGENTS (2022-2023)
BIL
AGENT
COUNTRY BASED
EMAIL ADDRESS
1
Memoline Consultancy Services
Afghanistan
riazullah611@gmail.com
mirwasisalihy@gmail.com
2
OT Consulting Nigeria
Africa & Middle East
otnigeria@gmail.com
3
Dot Asia Group Sdn Bhd
Asia Continent, Africa Continent and Middle East
edu@dotasia.com.my
4
Eduhub International (Pvt) Ltd
Australia, Canada, Germany, Ireland, Malaysia, New Zealand, Russia, Singapore, United Kingdom, United States of America
shanika@eduhubintl.com
5
Bangladesh Malaysia Study Centre Ltd
Bangladesh
rahim@bmscl.com
6
DNS Software Ltd
Bangladesh & Afrika
rafel@dnsgroup.net
7
Atrio Group Sdn Bhd
Bangladesh, Nepal. Bhutan & Indonesi
atriofirm@gmail.com
8
Anhui Xihang Education Information Consulting
China
applybingoffer@gmail.com
10
Beijing GuangXinRuitong Education Consultancy Co. Ltd
China
betc89@yahoo.com
11
Beijing Jingshi Yuren Education Technology Group
China
tessdong1112@163.com
12
Bilinn Overseas Study Consulting Service Co. Ltd
China
bilinn_net@163.com
13
Elite-Guide Education
China
nty624079075@gmail.com
alma@edu3edu.com
14
Gentle Partner Group
China
gentleedu.kl@gmail.com
16
Global China Centre Cultural Service Sdn Bhd*
China
uitmglobalstudycenter@gmail.com
17
Globalfront International Sdn Bhd
China
company@globalfront.com.my
18
Grand International Edu Group
China
dwong@unikebma.com
19
Huaian Longever Oversea Service Co. Ltd
China
2417107829@qq.com
20
HuiHuang International (M) Sdn, Bhd
China
jennfllow@hhisb.com
21
Libra Global Education Consultancy Sdn Bhd
China
globaledu666@foxmail.com
22
My Global Intec Center Sdn Bhd
China
gina527@163.com
cm@gmail.com
23
Positive Vector Sdn Bhd
China
nina@dsxliuxue.com
24
Qingdao Qingchin Xuezi Education & Technology
China
qingchunstudents@gmail.com
25
Sichuan Laideng Education Consultancy Co. Ltd
China
chinalightenedu@protonmail.com
26
Soaring Falcon International Sdn Bhd
China
dingbo@soaringfalcon.net
27
Walaao
China
kiro@walaao.com
28
Wendel (QHD) Cultural Communication Co. Ltd
China
winpok.night@gmail.com
30
YSN Mineral Sdn Bhd
China
abdulwahabmohdali@gmail.com
31
Beyond Think Creative Sdn Bhd
China & Indonesia
beyondthinkcreative@gmail.com
32
S Lead Enterprise
China & Indonesia
selinepua@slead.com.co
33
HK Gaosheng Education Consultants Sdn Bhd
China & Middle East
gaoshenghk2018@gmail.com
34
Schya Resources
China & Middle East
schyaresources@gmail.com
35
Lazgro Education
CIS Countries
lazgroedu@gmail.com
36
Rifa Coorporation
Indonesia
iyepds@gmail.com
37
National Foundation for University Services
Jordan, Gulf, Iraq, Palestine, Syria, Lebanon, Yemen, Egypt and North Africa
crm@nationalfus.com
38
Malaysia Twin Towers University Services and Consultations
Jordan
malaysia_twin_towers@hotmail.com
39
Q Study Sdn Bhd
China, Middle East, Sri Lanka, Maldives, Pakistan, India, UAE, Oman, Indonesia
apply@qstudyworld.com
40
The Falcon Enterprise
Maldives
jaheen@falcon.mv
41
Antaqa Consultancy Sdn Bhd
Middle East
hamdan@helpforstudy.com
42
Eduglobe (Malaysia) Sdn. Bhd
Middle East
jamil@eduglobe.com.my
43
Huruf Global Sdn Bhd
Middle East
sabah.h.alyousif@gmail.com
44
Imperium Consultancy Global Ltd
Middle East
jith@imperium-consultancy.co.uk
45
NSS Solution Sdn Bhd
Middle East, Africa, Libya, Saudi Arabia
sobuzacl@gmail.com
info@nsss.my
46
Subul Education Consultancy M Sdn Bhd
Middle East, North Africa
mohd.ali@secmalaysia.com
47
Premium Language Centre
Middle East, African, Asian, Russian
inquiry@premium.edu.my
48
LLEM International Sdn. Bhd
Middle East, North African, Turkey
info@llemedu.net
49
Education Zone
Middle East Countries
accounts@ezone.ae
50
Universal Taj Consulting Sdn Bhd
Middle East Countries
unitaj.services@gmail.com
51
Uni Student Academic & Study Abroad Services
Oman, Bahrain, Kuwait & UAE
a.rehman@unistudent.ae
53
Auckland International Student Alliance
China, Taiwan & New Zealand
m.li2@barfoot.co.nz
54
Oriental Gates Sdn Bhd
Saudi, UAE, Iraq, Jordan, Yemen, Egypt, Libya, India & Pakistan
info@orient-gates.com
55
QETC Education & Training Consultancy Sdn Bhd
Somalia, Egypt, Kenya, Djibouti, Libya, and Gulf Countries
zayid@qetc.my
56
C&W Resources Ltd
South East Asia, Middle East, Qatar, Europe
mariam@cnwresources.com
57
EMGlobal Assist Sdn Bhd
Southeast Asia & Middle East Countries (Brunei, Myanmar, Algeria, Sudan, Kuwait, Saudi Arabia, Iran, UAE
eyra@rexpo.com.my
eyra.emga@gmail.com
58
Mine
United States, United Kingdom, Australia, Canada, New Zealand, Malaysia, Ireland, Netherlands, Germany, France, Italy, Singapore, Switzerland, Russia, Sweden, Spain, Japan, South Korea
mine_joy@myismine.com
59
My Edu Group Sdn Bhd
China
www.myedu.edu.my
irene.khor@myedu.edu.my


60
Sound Mind Edu Consulting
Nigeria, Africa Region
info@soundmindeduconsulting.com
+60176619335
+601111858741
The following entities are appointed agencies by UiTM in recruiting potential postgraduate students:
Autonomous Provinces / Regions in control by these appointed agencies:
*GCC Cultural Service Sdn. Bhd.
a. Ningxia
b. Guangxi
c. Inner Mongolia
d. Anhui
e. Jiangsu
"Enhance the community of graduates who are constantly promoting the advancement of knowledge through academic study and research culture."